Accounts Payables are one of the most important parts of the financial side of businesses. Vendors need to get paid to keep things moving, so the more time and money you can save processing APs, the better.
Emerging technologies, coupled with acceptable modern practices, have forced all departments within a company to evolve. Along the way, they have brought positive changes in production and efficiency for those departments.
While most business areas can boast improvements in process efficiency, unfortunately, many AP departments are stuck in the past. If you could go back in time and see how accounts payable were handled ten or twenty years ago, you would see very little difference.
Some of this is out of fear of the unknown or fear of change. Some may be related to the fact that AP deals with money, and people tend to stick with what they're familiar with. To truly move forward, organizations need to embrace what technology can bring to the table in terms of efficiency and business models.
Here are three ways AP departments are stuck in the past.
Accounts Payable Still Depend on Paper
Relying on paper as the primary source of record-keeping and invoice paying is an old way of doing things. Unfortunately, it's still around.
Paper causes a lot of manual work, which increases costs. The commonly-cited statistic is manual processing of paper invoices adds roughly 62% to a company's labor costs.
A 2018 study found that 80.8% of businesses still use paper checks to pay invoices. What's more alarming is that 72.4% of vendor invoices are still sent by mail.
A conflicting 2019 study by J.P. Morgan, though, showed some progress. They found that only 42% of B2B transactions were done using paper checks, which is an all-time low.
Despite that progress, there's still a large portion of businesses today that rely on paper to pay invoices.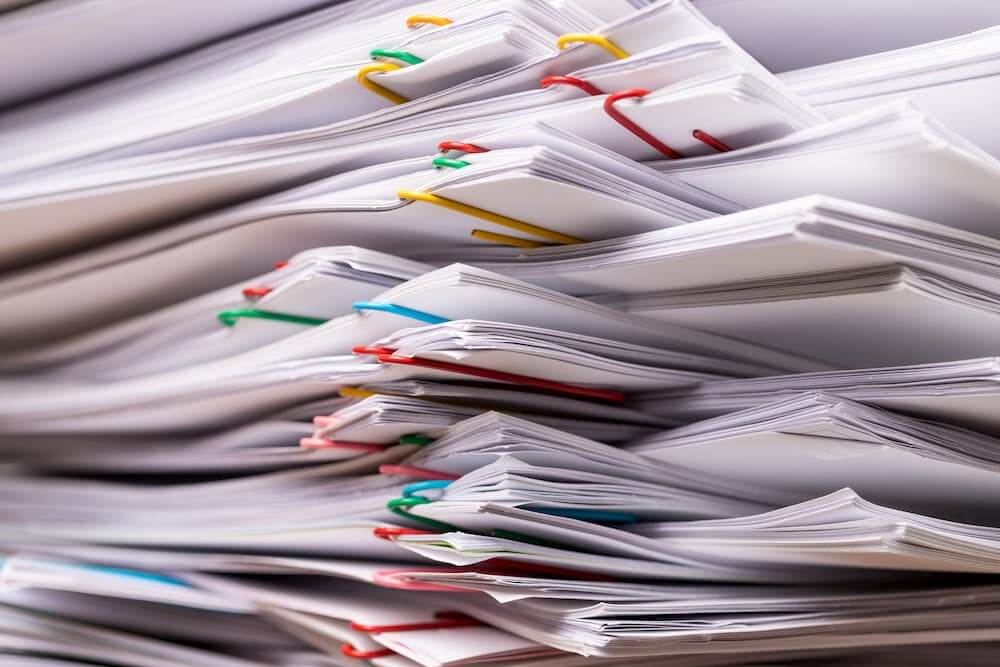 Paper isn't only used in the form of checks, however. Other crucial tasks, such as record keeping and historical data, are kept using paper.
The problem is that paper causes confusion.
Where are old paper records kept? Are they appropriately filed? Are there backups? Are those paper records searchable (if at all)?
Paper records make reconciling invoices very difficult if there's a question down the line.
In this digital age, paper requires a massive amount of manual data entry. Either records need to be entered one by one, or someone must scan each piece of paper into a system.
This adds to labor costs and increases the chances that mistakes are made. At the same time, it also doesn't remove the reliance on paper. Those paper records still need to be kept as a backup.
Paper documents cost more to store than digital documents do. Not only do they take up physical space, but they lock you down to a physical location. Paper is also vulnerable. It can be easily lost or damaged.
An over-reliance on paper not only makes business more difficult now, but it makes scaling up more difficult for the future.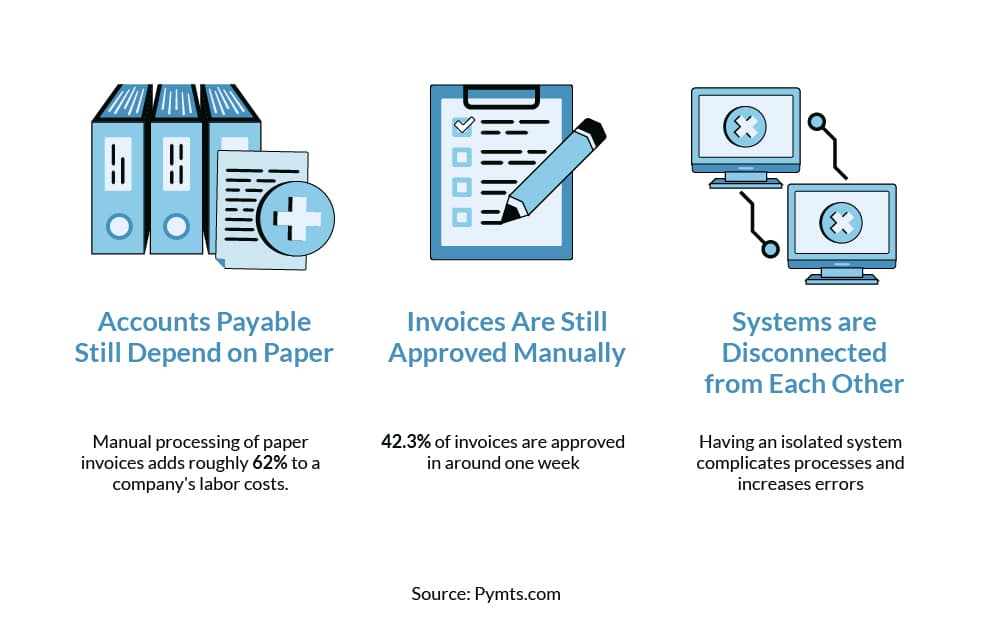 Invoices Are Still Approved Manually
The same 2018 Pymnts.com study found that manual approval of invoices slows the time it takes to complete AP processes. It found that 42.3% of invoices are approved between one day and one week. Only 42.9% of invoices are approved in less than a week, and three to five people are involved in the process.
This old way of doing things doesn't make much sense.
The manual way involves AP receiving an invoice and entering it into a system. The invoice is then sent to a manager for approval. The manager must either sign or stamp the invoice and then send it back to AP. Once AP receives the approved invoice, they can process it for payment.
This mundane process happens with every invoice. It's even required for recurring invoices that are the same each month, such as internet and equipment lease payments.
Modern AP processes include automated invoice approval. Companies can set parameters for what invoices get approved automatically. For other invoices, a digital approval process can be set up, so there's no need to send papers back and forth.
This helps AP stay on top of paying invoices on time. It also gives your company the ability to prioritize invoices to take advantage of early payment discounts, instead of merely paying invoices as they come in.
Systems are Disconnected from Each Other
Businesses are utilizing software more today than ever to help complete everyday tasks. There is a strong need to create digital records because it results in an efficient and streamlined workflow.
Instead of taking an efficient approach to software, though, companies still take a disjointed one. There's one CRM system for customer management. There's one accounting system for payroll. There's another for AP.
A better way to approach this is to employ an all-encompassing system that handles it all — or at least one that allows for the free flow of information.
It's more important than ever to have your data on the cloud to access it from anywhere. But perhaps more important than, your systems must communicate with each other — in the same manner that your employees do.
To truly modernize your AP processes, you need to become less reliant on paper while integrating automation through open and easy-to-use software.
If you need help making the transition, BluePenguin can help you create an implement a full ePayables system. Contact them today to find out how they can help you move forward.
Back to News and Articles