Accounts Payable departments often lag behind others in the company adopting forward-thinking principles. Human Resources, sales, and production departments use the latest technology. AP departments, though, still rely on too much manual work.
Automation is an effective way to bring your AP department into modern times. It involves digitizing invoices — from both vendors and employee reimbursements. It streamlines the invoice approval process, and it makes payments more manageable.
Some steps in the AP process that used to be handled manually by an employee are now automatically done. By removing paper and the possibility of human error out of the equation, you reduce fraud risks, improve data security, and cash flow management. Not to mention that the relationships with vendors will improve as your financial processes become more efficient.
These are important tasks for any company to undertake, but ones that many fail to do properly. Why? Because manual processes bog down the workflow. AP teams are focused almost solely on paying the bills — even if that's done late at times.
AP tasks that could take hours or days sometimes take weeks with a traditional manual system. Every time human intervention is required, errors can be made. And errors add more time to the process, especially during month-end reconciliation.
There are too many steps in the lifecycle of a typical business invoice to optimize manually. From the initial receipt to final payment, your company can gain efficiency by automating.
It's not all conjecture, either. Companies that use a digital payable platform get 73% faster processing cycle times, and an 81% lower processing costs.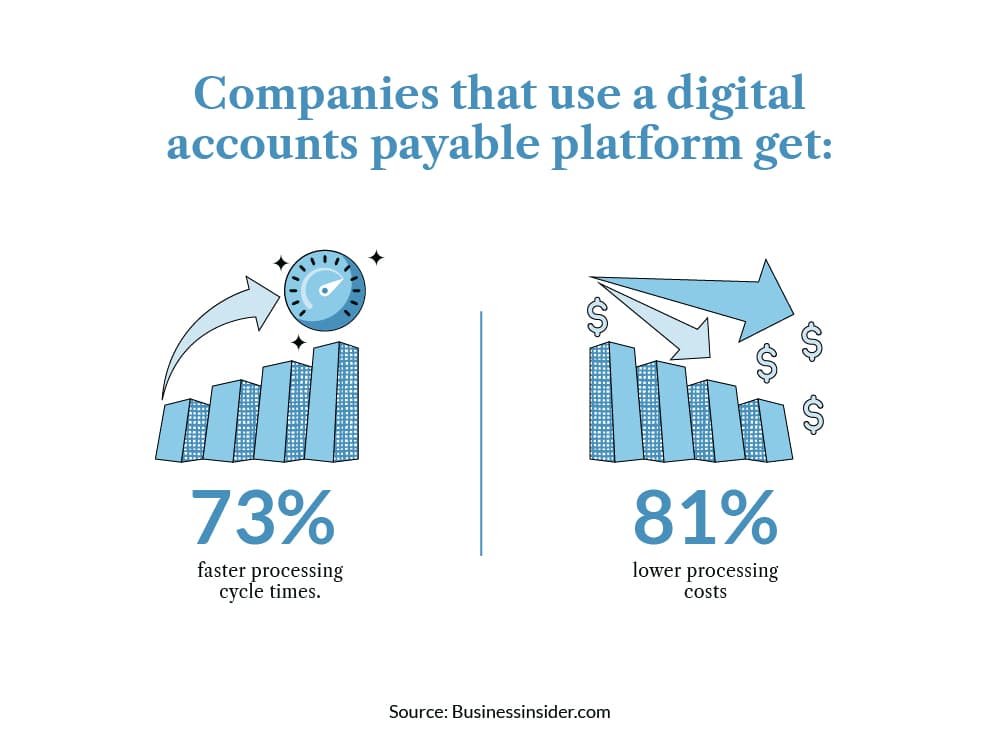 Good AP automation systems will be cloud-based. All invoice data can be accessed from multiple devices from anywhere in the world. Invoice approvals, and even payments, can be completely done remotely.
Here are the three major steps to AP automation.
Digitizing Invoices
The first step in AP automation is to digitize all vendor invoices in a standardized format.
For invoices that are already digital, this entails converting the data into the format of your system. Paper invoices need to be scanned, and the data needs to be captured and converted to a digital form.
Once the system itself is set up, the goal should be to get as many of your vendors on an e-invoice system as possible. For those that still send paper invoices, a scanning system will have to be set up to handle this task.
By setting up this digital invoice process, there will be no manual data entry required. Once you do this, you'll be fully buying into the theory of the cost of quality, sometimes called the 1-10-100 Rule:
If prevention costs $1, then correction costs $10, and failure costs $100.
In other words, it costs 10 times as much to correct a problem as it does to prevent a problem from happening. And if you don't stop the problem from getting out of control, it'll cost you 100 times as much to fix it.
Automating Invoice Approval
Once all invoice data is set, you'll need to set up the invoice approval process and hierarchy in your system. During this step, you'll set the people in your organization who are responsible for reviewing and approving all your vendor invoices. They'll then have access to do so digitally.
When invoices are received and merged into your system, they're automatically sent to the appropriate person for approval. Notifications and reminders can be set to make sure that person stays on top of the approval.
The AP automation system can also use algorithms to match purchase orders to invoices. It can flag any mismatches for manager review. Automatic approvals can also be put in place for POs and invoices that verified this way.
There's no paper involved. There's no need to rely on employees to distribute each invoice to the company's right person.
This is total touchless invoice processing. This is the ultimate goal of automating the AP process.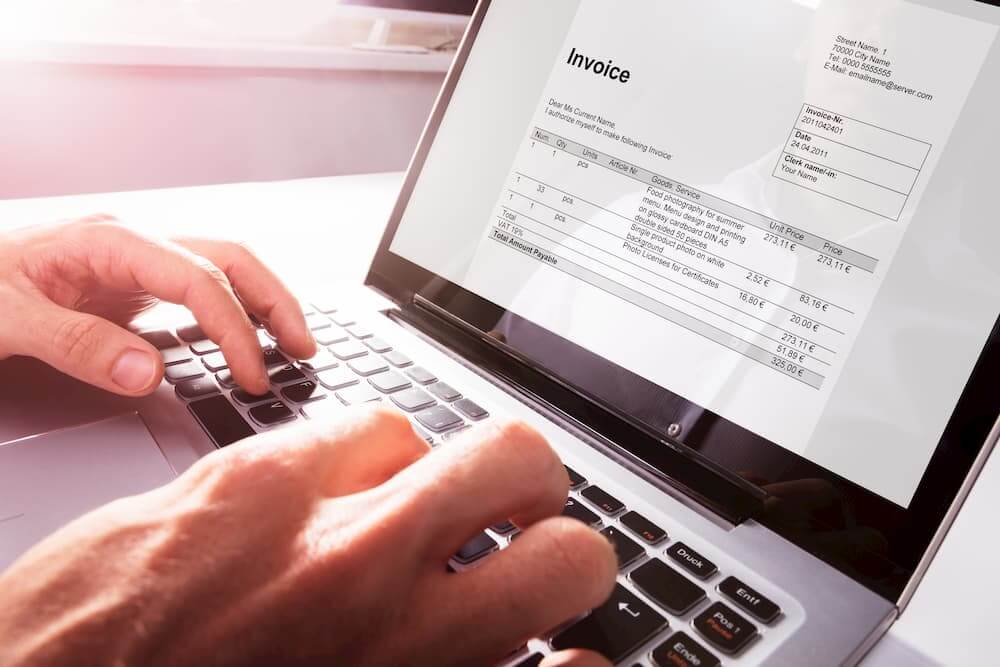 Automating Payments
Manual data entry and invoice approvals are time-consuming enough. But there's more.
The next step most companies undertake is to hand off approved invoices to an AP employee responsible for making the payment.
Many companies still do this by check. The Aberdeen Group estimated that it costs businesses $7.78 per check to pay bills that way. But even if a business uses a digital payment method such as online bank payment or business credit card, an employee still must make the payment manually, which opens the same potential for mistakes.
In addition, this manual way of processing payments forces the responsible employee to have a precise handle on due dates and potential available savings such as early-payment discounts.
Payments can be automated, too, though. With the right AP automation system, payments can be approved the same way invoices can digitally, and then be automatically executed on the correct day.
AP departments can choose from a variety of payment options, including complete ePayables, all of which will be stored in one central location. The system can display payment deadlines and early-discount payment dates and notifications when either of these is approaching.
Modernize Your AP Department with Automation
Today, there are clear benefits to implementing a digital system that automates many AP processes. It's a great way to take advantage of the technology available to all businesses today, and bring your AP department into the 21st century.
BluePenguin is one of the most trusted providers of ePayables, helping companies across various industries create an efficient and effective Accounts Payable department. Contact them today to see how they can help your business do the same.
Back to News and Articles